Roasting machine

---

It roasts carefully with a direct fire type 3 kg roaster.
  Information on coffee beans
* All charges (including tax)
Blended coffee

100g
250g
500g
a
Aromatic Blend Brazilian Main Mixed Roasting
 Light Light Flavor Clearly Refined
¥700
¥1,400

¥2,450
b
 Mild blend Colombia Mainly
Smooth harmony with the four seasons
¥700
¥1,400
¥2,450
c
Mokuren blend Brazil Mainly
Sweet pleasant pleasant relaxing taste
¥700
¥1,400
¥2450
d
Extra blend Mandelin Mainly
Profound bitter taste gradation
¥720
¥1,440
¥2,520
e
Seasonal blend
Every year limited only for that season,
It is a blend that imagined a periodical pattern
¥720
¥1,440
¥2,520
Straight Coffee
100g
250g
500g
1
Brazil
 Medium taste Sweet clarity sense
¥700
¥1,400
¥2,450
2
 Columbia
Friendly taste
¥700
¥1,400
¥2,450
3
Mocha Halal Ethiopia
Tickling flavor
¥800
¥1,600
¥2,800
4
 Guatemala
Good taste of Guatemala goods
¥720
¥1,440
¥2,660
5
Mandelin Indonesia
Rich aroma and deep bitterness
¥760
¥1,520
¥2660
6
Mocha Matari Yemen
Rosewood lady's style
¥1000
¥2000
¥3500
7
Masters Selection
Master recommends you from time to time
¥820
¥1,640
¥2,870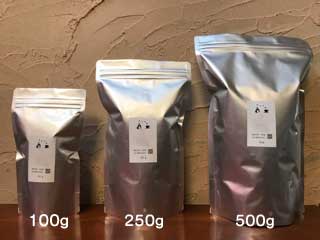 Besides that! ! !
Drip bag coffee
I will.
Coffee It is a drip bag coffee that used beans roasted with miscellaneous.

One cup of coffee is completed with one bag.
The contents are mild blend of miscellaneous 10 g.

* There are two types of labels, but the contents are the same.
1 piece ¥150
10 pieces ¥1,500
Liquid ice coffee
I used an extra blend roasted with coffee and miscellaneous goods


It is liquid type ice coffee.
* Store after opening the refrigerator, please enjoy as soon as possible.

* There are two types of labels, but the contents are the same.
¥500 (1000ml)
---
■ We accept orders from 100 g.
■ Please specify "keep beans" or "grind to powder" cage.
■ 20% discount for 250 g packs, 30% discount for 500 g packs.
■ About 3 weeks with beans, we recommend grinding into powder and recommending about a week for about a week.
Email coffeemokuren@Gmail.com
■ Estimated shipping cost
■ We accept orders from 100g. Shipping fee for orders over 4500 yen is free.
Delivery will be delivered by Takkyubin of Kuroneko Yamato.
Shipping charges apply only to the domestic market.
(tax included)

Kansai, Chugoku, Chubu, Hokuriku, Shin Etsu  
Kanto, Shikoku, Kyushu
South northeast
Northeast North
Okinawa
Hokkaido                 

¥ 712
¥ 820
¥ 928
¥ 1,036
¥ 2,440
¥ 1,652
* Please pay the price with coffee beans from the post office on the transfer form.

Copyright(C) Mokuren allrights reserved.